Regular price
$185.00
Sale price
$150.00
Unit price
per
Sale
Sold out
The best way to rep the TFUEL Team with everything you need to get fueled up! Includes FREE USA Shipping 🇺🇸
This pack valued at over $170 Includes:
1x PRE+EAA (Tropical)

1x Fiber Greens (Green Apple)

Black TFUEL Shaker

TFUEL Headband
FREE USA Shipping
What is PRE+EAA?

2-in-1! This is a combination of our clinically dosed pre-workout formula perfectly blended with Essential Amino Acids.  
What Are Fiber Greens?

The tastiest way to GUT health. Three different fibers to reduce bloating, optimize digestion, and heal the GUT. The greens, reds, and probiotics are only icing on the cake! w/ 8g of fiber!
How are we different?

TFUEL is changing the game with combining an epic PRE formula with a solid dose of EAA's.

We have priced our PRE+EAA at what most companies charge for just ONE of their products. We want to provide our customers with a quality product that doesn't require making two different drinks. We also added a hydration complex to further optimize performance! 
PRE+EAA Benefits

✓ Boost in hydration* (coconut water)
✓ Increased pumps* (citrulline)
✓ Increased performance* (creatine, beta alanine)
✓ Increased energy and focus* (caffeine, B-vitamins)
✓ Muscle preservation and increase in protein synthesis* (EAA's)
Fiber Greens Benefits

✓ Detoxification
✓ Appetite Satiation
✓ Weight Loss
✓ Regularity
✓ Blood Sugar Control
✓ Heart Health
✓ Cholesterol Management
View full details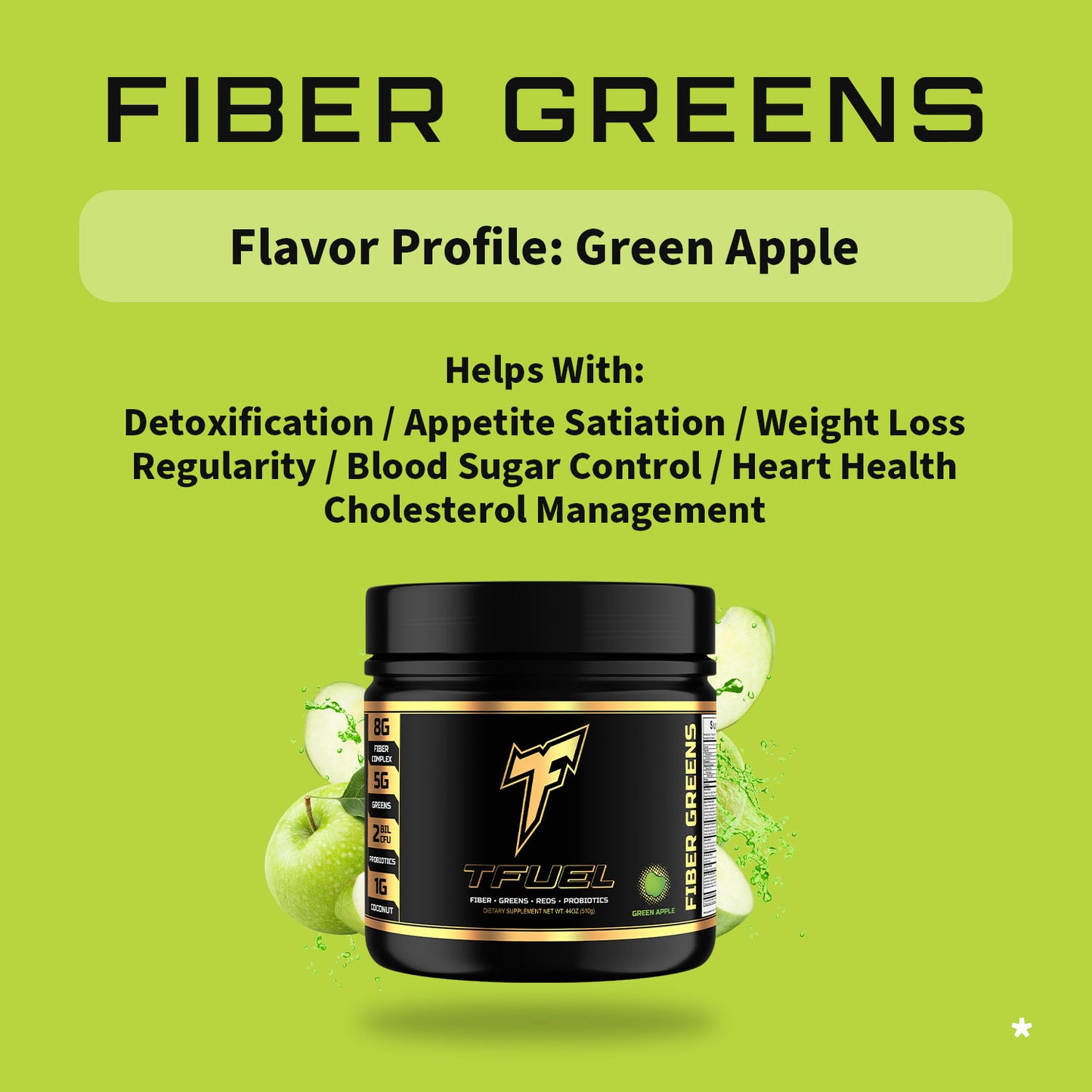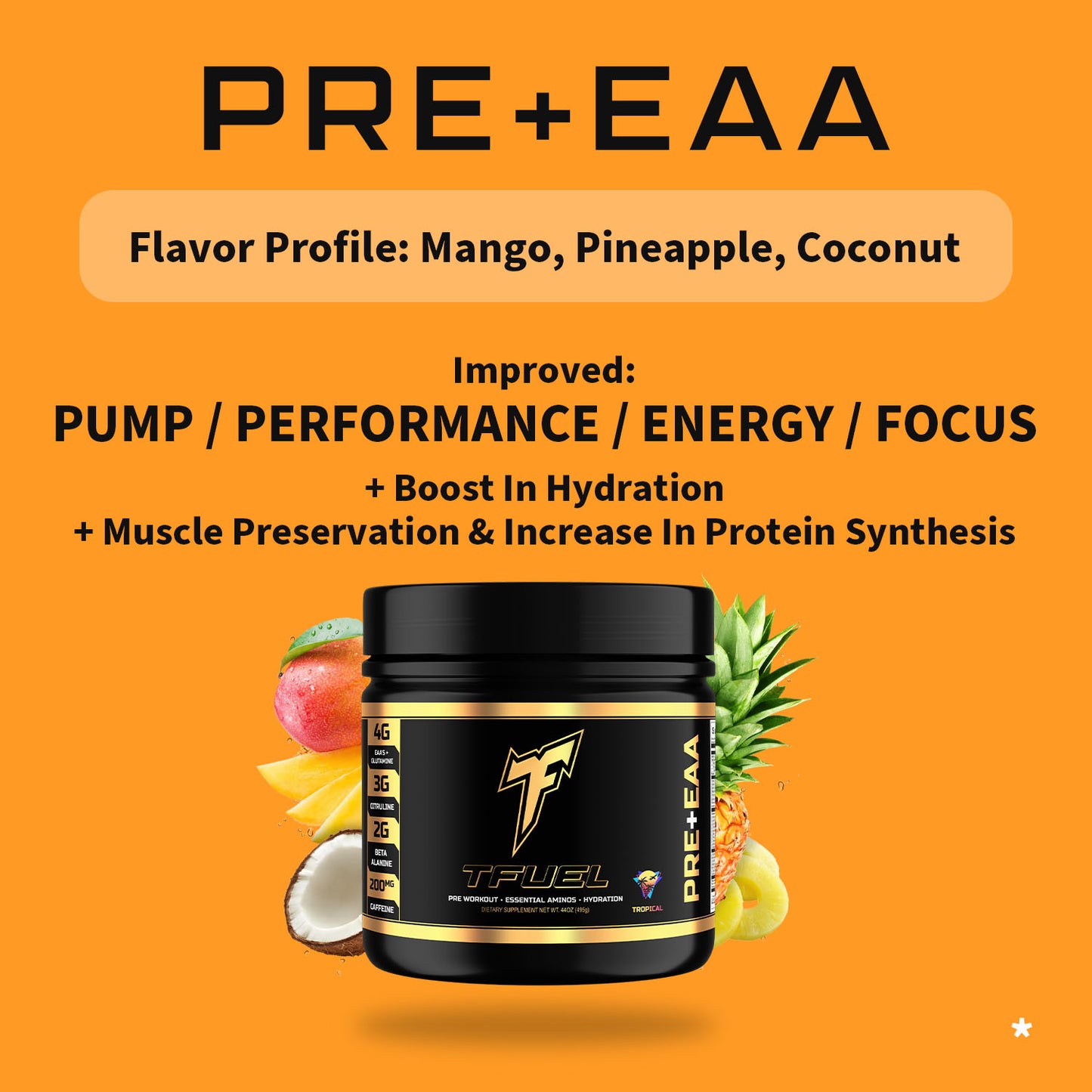 PRE+EAA Featured Ingredients
TITAN Energy Blend

If you want a crazy high stim product this is not for you. We have included a sufficient amount of caffeine (200mg per scoop/400mg per double) and an array of B-Vitamins for a smooth no crash energy.

Some of the other high stim products on the market can be stressful to your central nervous system. We find this optimal for performance and focus.
TITAN Hydration Complex

Just to make this an even more incredible product, we have created our TITAN Hydration Complex blend of coconut water powder and other essential ingredients to keep the muscle hydrated.

Dehydrated muscles are prone to injury. You can't #WinTheWar if you aren't on the battlefield!

Made with Raw Coconut Concentration, Magnesium Citrate, Calcuim Citrate, Potassium Citrate, Sodium Chloride
Essential Amino Acids

Essential Amino Acids are the future to muscle repair, endurance, and protein synthesis.

We have used a clinical dosage of EAA's that's been shown in studies to be as beneficial as 15 grams of protein! It is beneficial to take these prior to or during training to keep the muscle from breaking down and allow you to train even harder!
L-Citrulline

What's a pre-workout without a pump product? L-citrulline is one of the most popular pump products on the market. Fill the muscle with blood and encourage more muscle fiber recruitment. We have included a clinical dosage of the best pump ingredient on the market!
CarnoSyn® Beta Alanine

We have included the patented and best version on the market of this ingredient by the name of CarnoSyn®.

We have included just enough to be beneficial, but not so much to give you that crazy itchy feeling. With just enough beta alanine you will be able to fight off lactic acid for longer.

More reps, more results!
Creatine

This product contains a small amount of creatine. Most research suggest 3-5g of creatine a day to reach maximum benefits.

With 1.5g per scoop this puts you at the minimum threshold of 3g if you double scoop.

Creatine is great for men and women for increased power and performance. 
Fiber Greens Featured Ingredients
5g of Fibersol® (patented ingredient)

Backed by over 30 years of clinical research and scientific data, this dietary fiber that provides all the benefits of fiber while eliminating the bloating and gastric discomfort of most fiber products.

Fibersol® is low in simple sugars, and has been shown to strengthen the gut microbiome, maintain blood sugar and insulin levels, improve stool consistency, increase satiety, retain healthy triglyceride levels, and increase good bacteria in the amount we selected.
1.5g Ticagel Konjac® (glucomannan)

An herb that grows in Asia, used for thickening and its soluble fiber properties. Studies suggest that Konjac has been shown to prevent constipation, hemorrhoids, and even some cases of acne. 
1.5g Psyllium Husk

Water soluble plant fiber with prebiotic effects that can alleviate constipation and expand in the stomach to sweep out unwanted waste. Too much can cause distress, so that's why we felt 1.5g was the sweet spot.
5g Greens

We've added 37 greens and grains to this powerhouse product. The normal human doesn't get in the recommended daily allowance of greens, so as an insurance policy we've added in 100% of the RDA in greens.
SL14™ Probiotics Blend

We paired FOS (fructo-oligosaccharides) from chicory root powder and lactobacillus acidophilus to feed off each other for maximum efficiency. We selected gut resistant probiotics that are designed to make it through the digestive tract and feed on the prebiotic fiber mentioned above.
1g Coconut Water Powder

An extra boost in hydration for the gut flora and the digestive process.
Antioxidant & Reds Blend

13 fruit powder extracts for a micronutrient boost!
Digestive Enzymes

Protease (breaks down proteins), amylase (breaks down carbs), lipase (breaks down fats), lactase (breaks down lactose), and cellulase (breaks down vegetable fibers).
Detox Blend

Milk thistle seed powder (liver health), cilantro leaf powder (rids heavy metals), and turmeric root powder (inflammation fighter).