Regular price
Sale price
$64.99
Unit price
per
Sale
Sold out
You'll fall in love with this flavor… this tropical blend is the perfect mix of mango and pineapple with a touch of coconut. Drinking PRE+EAAs doesn't have to be boring!
What is PRE+EAA?

2-in-1! This is a combination of our clinically dosed pre-workout formula perfectly blended with Essential Amino Acids.  
How are we different?

TFUEL is changing the game with combining an epic PRE formula with a solid dose of EAA's.

We have priced our PRE+EAA at what most companies charge for just ONE of their products. We want to provide our customers with a quality product that doesn't require making two different drinks. We also added a hydration complex to further optimize performance! 
Benefits

✓ Boost in hydration* (coconut water)

✓ Increased pumps* (citrulline)

✓ Increased performance* (creatine, beta alanine)

✓ Increased energy and focus* (caffeine, B-vitamins)

✓ Muscle preservation and increase in protein synthesis* (EAA's)
Usage Instructions

PRE+EAA is the perfect pick-me-up before the gym or any activity. Use one scoop 15-30 minutes before the activity in 6oz of water. Assess your tolerance and adjust scoop/water amount if necessary.

Warning: Consult a healthcare practitioner prior to use if you are pregnant, breastfeeding, taking prescription medication, or have a serious medical condition. This product contains caffeine and should not be used with other caffeine or stimulants from other sources. Do not exceed recommendations for suggested use. Intended for adults 18 years of age or older.

Keep out of reach of children.
Supplement Facts Panel
View full details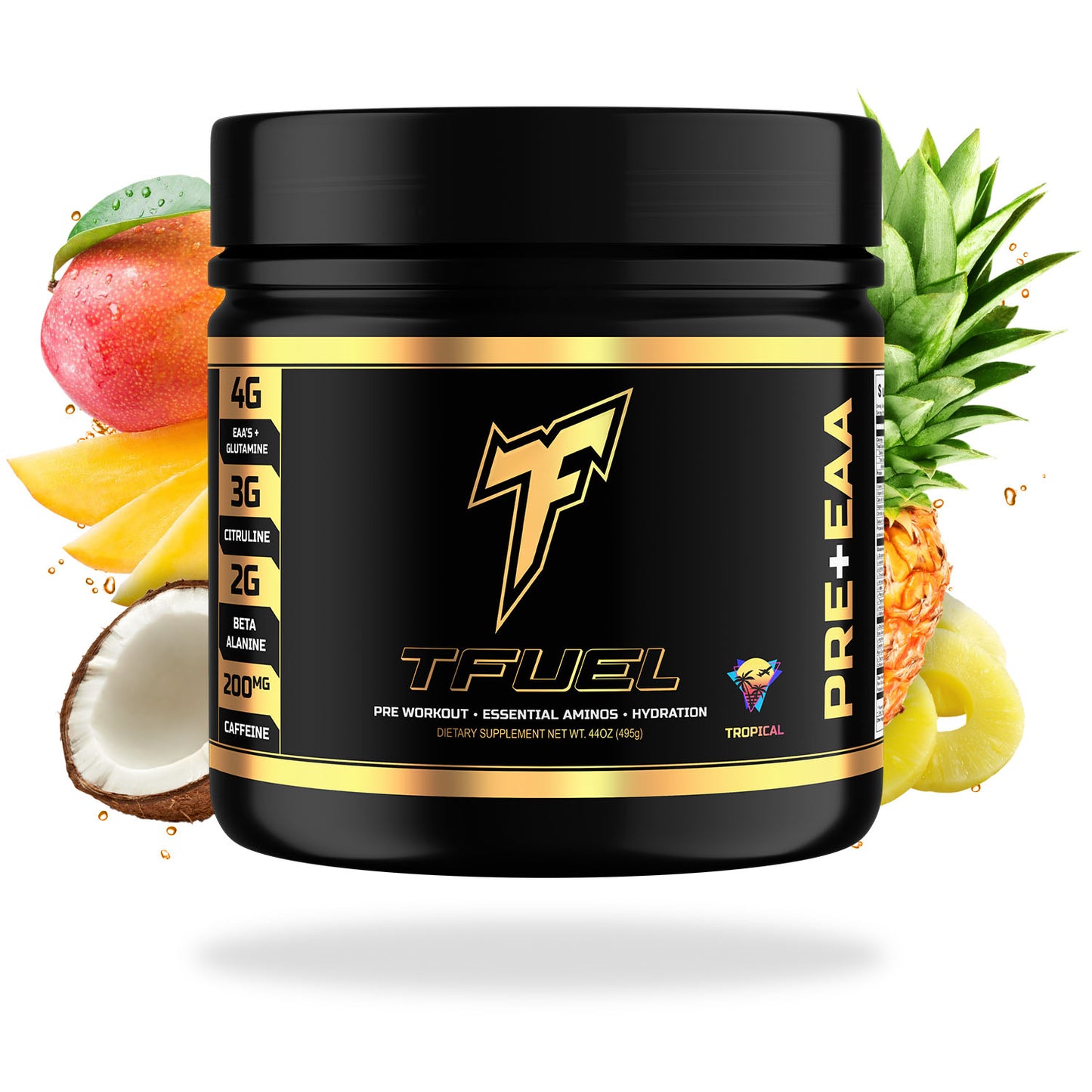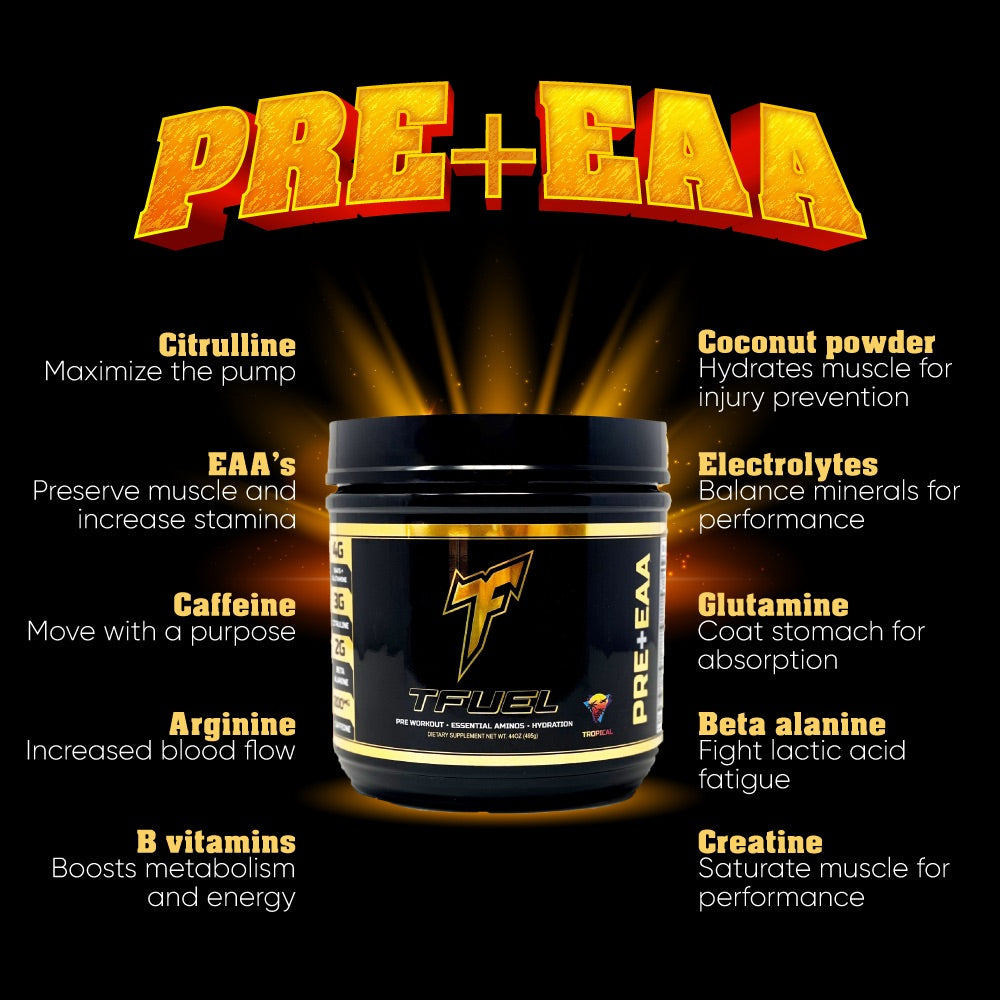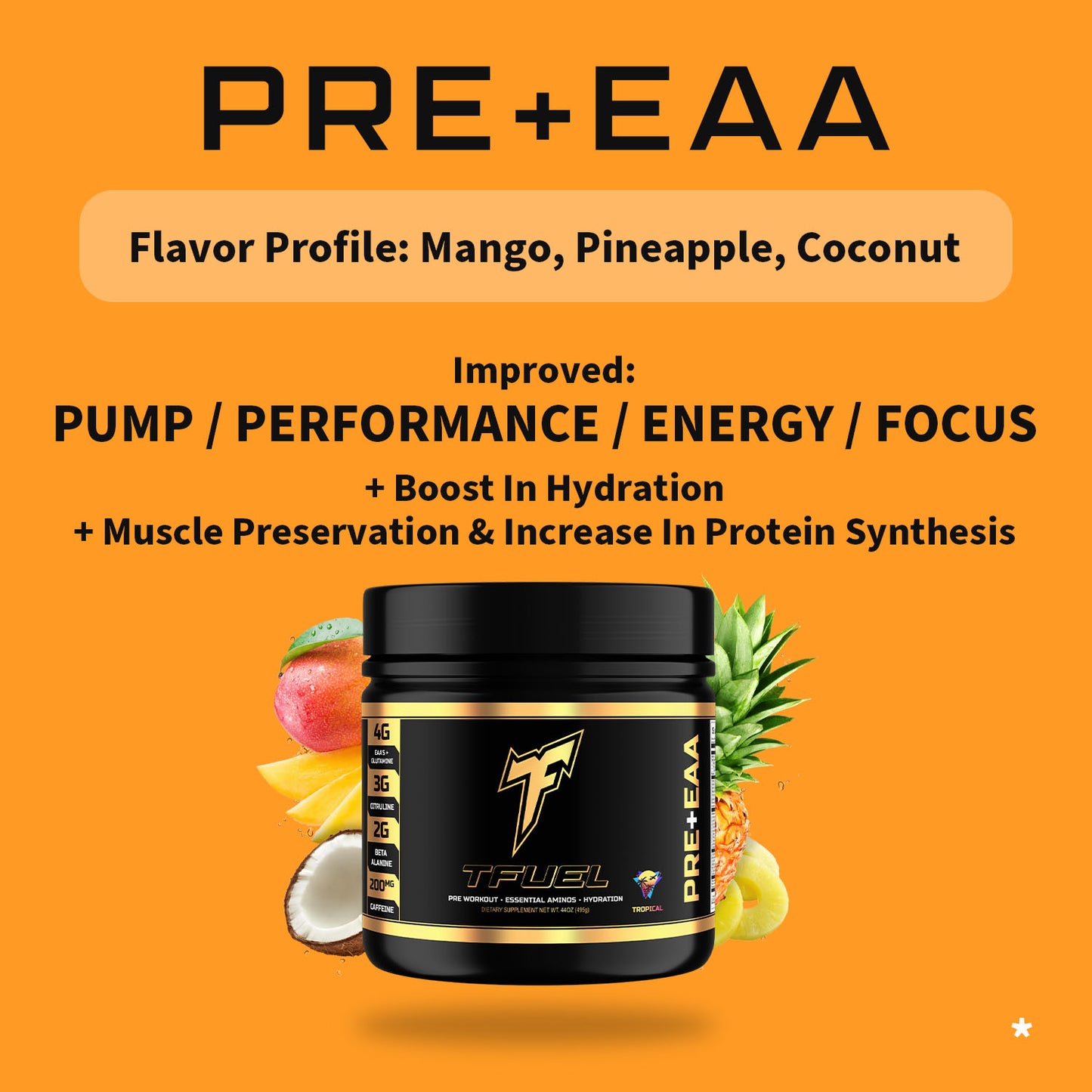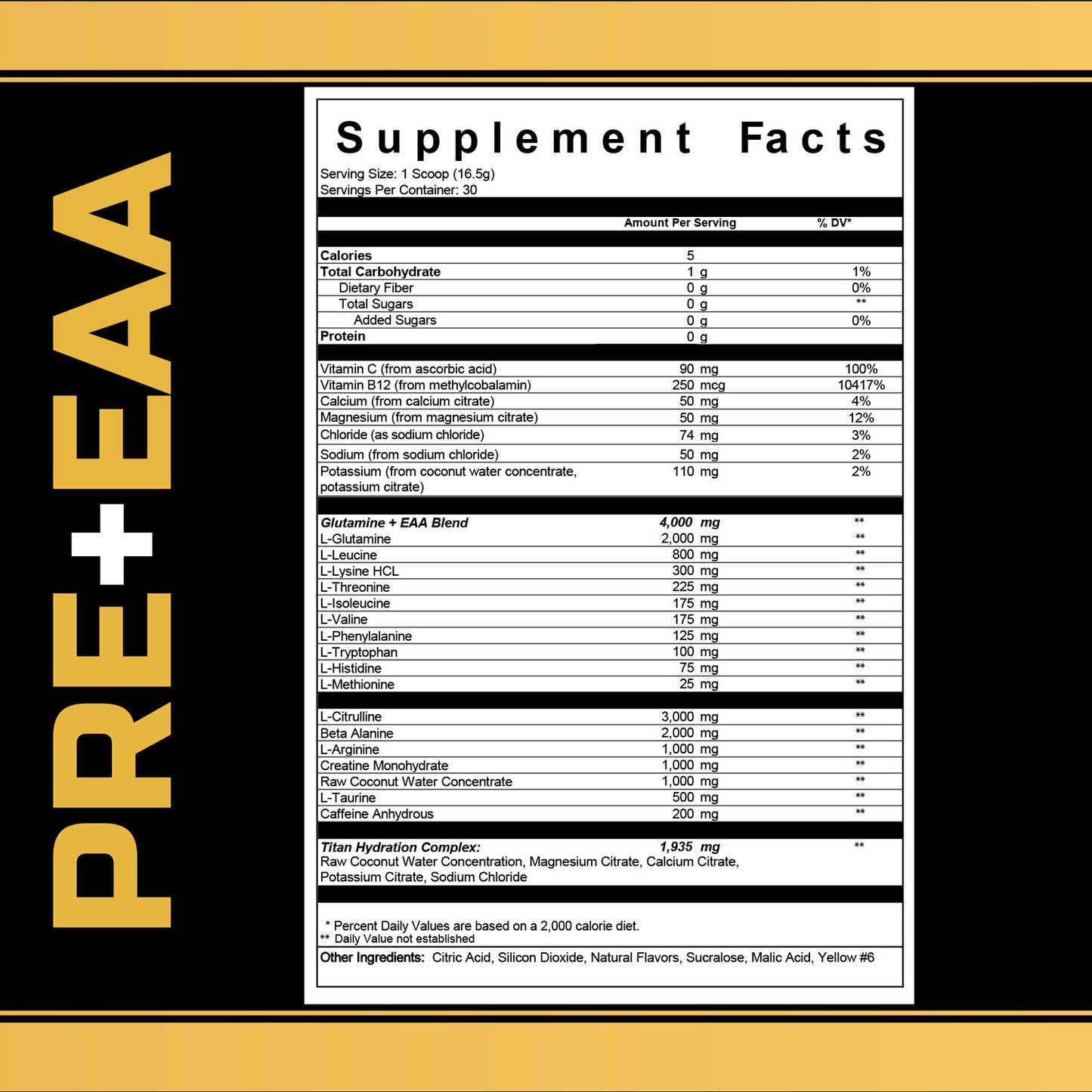 Supplement Facts - PRE+EAA
Featured Ingredients
TITAN Energy Blend

If you want a crazy high stim product this is not for you. We have included a sufficient amount of caffeine (200mg per scoop/400mg per double) and an array of B-Vitamins for a smooth no crash energy.

Some of the other high stim products on the market can be stressful to your central nervous system. We find this optimal for performance and focus.
TITAN Hydration Complex

Just to make this an even more incredible product, we have created our TITAN Hydration Complex blend of coconut water powder and other essential ingredients to keep the muscle hydrated.

Dehydrated muscles are prone to injury. You can't #WinTheWar if you aren't on the battlefield!

Made with Raw Coconut Concentration, Magnesium Citrate, Calcuim Citrate, Potassium Citrate, Sodium Chloride
Essential Amino Acids

Essential Amino Acids are the future to muscle repair, endurance, and protein synthesis.

We have used a clinical dosage of EAA's that's been shown in studies to be as beneficial as 15 grams of protein! It is beneficial to take these prior to or during training to keep the muscle from breaking down and allow you to train even harder!
L-Citrulline

What's a pre-workout without a pump product? L-citrulline is one of the most popular pump products on the market. Fill the muscle with blood and encourage more muscle fiber recruitment. We have included a clinical dosage of the best pump ingredient on the market!
CarnoSyn® Beta Alanine

We have included the patented and best version on the market of this ingredient by the name of CarnoSyn®.

We have included just enough to be beneficial, but not so much to give you that crazy itchy feeling. With just enough beta alanine you will be able to fight off lactic acid for longer.

More reps, more results!
Creatine

This product contains a small amount of creatine. Most research suggest 3-5g of creatine a day to reach maximum benefits.

With 1.5g per scoop this puts you at the minimum threshold of 3g if you double scoop.

Creatine is great for men and women for increased power and performance.